Inspiring Orchid 2017
The Story
---
It started with a team of passionate women who want to inspire other women to push themselves out of their comfort zones. Challenged by the various barriers and expectations from the society, the route towards reaching women's true potential can be very daunting and not many are able to withstand the pressure.

Thus, we seek to create a strong support group that motivates and encourages one another through this conference.

It is a platform where ideas are exchanged, courage is celebrated and women are empowered.
​

---
"Women should empower each other instead of being so hateful and envious of one another"
Why Orchid?
---
We believe that each woman is unique and beautiful. Orchids represent a rare flair of elegance and are highly sought after, which pretty much resemble women's character. The Orchid symbolizes the spirit of empowerment that women must embrace.

​Also, because roses are too mainstream.
Why are we different?

We are proud of the fact that there are many initiatives taken to fulfill the same purpose but we differentiate ourselves by these qualities:
---


SPECIALLY FOR YOUTH

We believe that young people are prone to adapt and change to adapt with their surroundings. Thus, it is vital to inspire them with the insights from successful women across the board so they realize that there is no generic definition of success nor a one way street to get there.

Diverse speakers​

We will feature an array of speakers who are corporate, leaders, entrepreneurs, social activists, athletes, government officers, designers, to share their experiences and secrets to success.
IT WILL BE FUN!
​

We apologize but this will not be one of those conferences with just a whole load of listening to speeches. There will be entertainments slotted in as well to keep the delegates awake (much more effective than candies), ranging from stand up comedy, fashion show, singing and dance performance.

IT IS NOT THE 'TOUCH AND GO' VERSION

We want to ensure that delegates get to optimize the opportunity to engage with the speakers and most importantly other delegates without having to resort to the "Hi, Bye" approach. Thus we slot in plenty of networking sessions (with food in between of course!) to foster stronger bond amongst the participants so to create a circle of connection that supports one another. To kick it up a notch, together we create impact, for other women in the community with our outreach projects post conference.
---
Powered by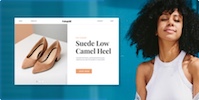 Create your own unique website with customizable templates.